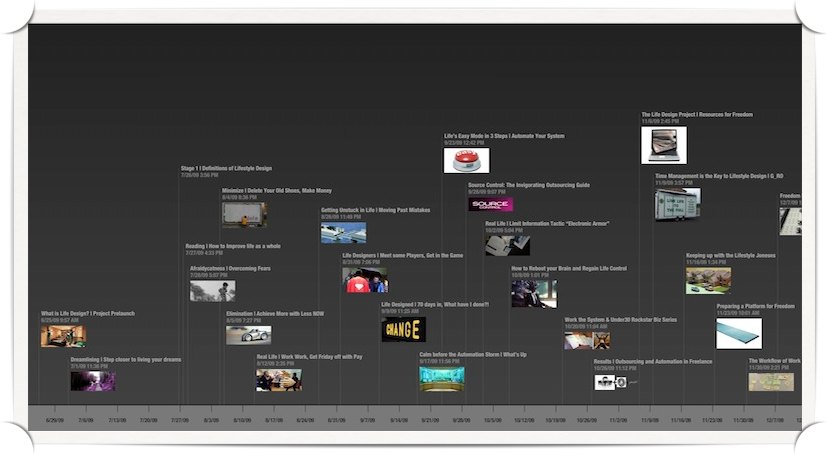 Resources: Day Counter, Timeline 3D
I started this blog 537+ days ago. Wow. It was 3 days after my 25th birthday and I was out to test some theory's on living. Theories that proposed ways to make life less of a grind, open up avenues to put dreams and goals on a real timeline, and become financially free.
The days have abounded with life tips, tricks, mental re-training, challenges, re-lapsess, and forays into online business where anyone can be a content provider. I've met authors, saved hours and hours of wasted time per week, sold products I made, and others I haven't, minimized my material belongings, made friends (real and online), lived out some dreams, reaped business connections, been insulted by web celebrities, proved the money is there to be made, and much much more. And for the most part, it's all been recorded here.
The battle wages on in business at the moment, but what moves, websites, books, ect. have made the biggest impacts in my life over the last 76 weeks and 5 days? How can you avoid my mistakes and benefit?
Have a look below at my experience in bullet point fashion…and then my friends, it's back to basics for this site. There has been far too many good intentions and planned progressions that have been sidetracked. I've lingered far too long reading and planning, structuring and thinking (as is my weakness) and far too little in doing and experiencing lately. I've noticed those most fulfilled in stories, in the Bible, on Twitter, in life…are creators, they are actively engaged in something, not just doing something today because they did it yesterday and I've gotten away from that.
Said plainly, if I can't make the money in front loaded, managed, not time traded methods for flexible income (and time) a month and/or alter my life situations to do more things related to my passions in the next 6 months, (instead of settling for living a fraction of my life how I want, American minutia, jam packing my free time with fake "internet business things", freelancing, and other such nonsense of my own creation) I'm just a fake and I shouldn't be here.
So…it's back to the roots, raw, likely gramatically incorrect progress updates on enabling more of that time freedom; resources at the top of every post, trackable actions, reflections and results in the middle, and specific bi-weekly dreamline reports near the end. The posts will be a bit more frequent, probably more wordy, un-edited, resource heavy, and I think, much more personal going into 2011. I'm also going to include more about me actually living out my dreams, not just enabling them. Unsubscribe now if that doesn't jive. Somewhere along the way this blog became a bit more about the image of designing life, and not reporting on doing it. Away with that! Onward!
567 Days of Life Design, The Timeline, What's Important
Objective: Review changes I've made in the realm of "Life Design" and record what's memorable, sticks out, and effective.
Important Links: 70 Days in What Have I Done (previous similar post)
Timeline: Below is a timeline of all the posts here at the LDP. I used this to visually see what I've written about, and create quick links to all my posts for my own review. PDF for easy access to links, video to reflect.
httpvh://www.youtube.com/watch?v=vVwk00H4dp8
Highlights and What's Stuck:
It began, The 4 Hour Workweek sparks this project.
I jumped into blogging for the first time, defined some dreams and created documents for yearly goals. A practice that now continues each year. The blogging and community has also kept me going….hands down.
Read blogs and business books without abandon for a few months. I now always have a "currently reading" list to talk about. I used to tell people reading was fun for mentals.

The one's that stuck: Books – Seneca, Work The System, 4 Hour Work Week Extended, The Go Giver, Rich Dad, Poor Dad, How to Win Friends and Influence People, Getting Things Done. Blogs – Free Pursuits, Thrilling Heroics, The Smart Passive Income Blog, The Middle Finger Project, Spread Your Influence, The Social Media Examiner, Muselife, Location180

Eliminated material possesions and took with me a monthly event of taking picture of everything I own, then scanning them and junking the crap. Less clutter, more mental freedom. Very powerful. I can show you everything I own in an e-mail.
Created some systems and mental practices for cutting down drastically on the minutia of life and in a day job. Most memorably the idea of batching cooking, cleaning, complete automatic payments of bills, laundry and most importantly e-mail.

At work, always defer to e-mail, call for emergencies, avoid meetings, check e-mail at specific intervals to focus on more important projects.
Inbox serenity, task management that works by using a calendar and capture tool.
Implemented these techniques at work, negotiated variable work from home time and received a raise in 2009.
Point: These are mostly mental re-trainings. Use triggers, post it notes, phone reminders to get these down.

Reached out, and experienced that people want to hear what you say, are open to participating with them, and that you can get in touch with anyone.

Guest posted on other blogs, others guest posted here
Ramit Sethi made fun of me contacting him on his blog, I learned from that and have exchanged several e-mails with him since.
Grew my loose business contacts from 50 or so to over 1000 with people I've interacted with on Twitter, my blogs or e-mail.
Influencers: @Charlie Hoehn, @Greg Rollett, @Corbett Barr, Everyone who's ever left a comment
Resources: How to Hack Someone's Mind « Hoehn's Musings

Experimented in outsourcing and virtual assistance. Works best with work you have created a documented system and workflows for tasks that are repeatably needed. I've used mindmaps ever since for a various parts of my life.
Continually grappled with being focused and energized on one goal instead of going in many directions or distractions.
Continually was floored with the fact that I get at least one request a week to be interviewed for something or being thanked for writing this blog.
IT Arsenal was born, the business arm of this project, meant to be the playground and umbrella for creating online income that is a majority of easily managed, passive income, vs service based. The services and bland non-focus continued on this site for far too long.
Learned, through experience with this blog and an "experiment" product, the basics of Google Adwords, the different types of keywords to study, payment gateways like eJunkie, writing salescopy, and mindmapping to discover flow of process.
Felt a real productivity shift in my life…with less physical materials, better systems, selective ignorance and singular focus, I had funneled the overload that is this world into an efficient machine; yet still struggle to cross the divide of eliminating enough in life or making enough front loaded income, that free time could come in days at a time, not hours. Very happy, but now I've seen the light and want more.
Launched The Backup Informer book. Sold well but under exposed, experience was educational. I took too long to make it, don't push off your chance to launch something.
Traveled to Jamaica on income from ebook and online business (www.justanswer.com)
Used Coaching as a means to re-energize online business efforts
Continually struggled with making visible change as I sold existing product and didn't know how to effectively sacrifice the influx of business requests that were coming, but were not passive, front loaded, or from my creation of something.
Tangled up in other people's products and what could be wrong instead of just focusing on my next thing to launch and try.
Bought a 2007 GTI and an engagement ring. Online freelancing, ebook sales, and affiliate income paid for the ring, and continues to pay the car payments.
$2k from online endeavors 4 months in a row, but only a few hundred from affiliate income, outsourced work or digital product sales. Which meant I made a lot, but I had little free time for dreamlines, or peace of mind. Yay, but NOT YAY.
Asked three people to be on my "board of directors" not literally but figurative to take a call once every 6 months, and be available by e-mail. Awesome thing to do. Allows outlet, and accountability.
Finally stopped taking new business requests, ignoring RSS, Twitter that wasn't direct communication and have loved every minute creating, systematizing my expertise into sellable products and packages, and creating more tangible resources. Much more creation to go.
I am much more experienced, yet for all I've been through, can't understand why I don't just focus on creating, testing, experimenting, and pushing the edge more more more. Maybe it was life's grind, the "bigness" of it, the newness, getting cushy after seeing some money…I can tell you one thing, it's more a mental battle than anything else.
Create, don't look around, go into a cave, build something, come out and see how the world reacts, ask questions, interact, connect, get genuinely interested in people, then go back into your cave! Do not just linger around. It will be my 2011 goal to execute more.
Most Popular Posts:
Most Used Web Resources:
Gmail (labs enabled)
Hootsuite (social management)
WordPress
Google Docs (Google Apps in general)
Dropbox
Mint.com
E.gg Timer
Ejunkie & Paypal
Stickk
Billing Boss
Most Used Desktop Apps:
Evernote
iCal
Omnigraffle (best mindmap tool ever)
Apple Pages
Apple Keynote
Dreamweaver (web design)
Fireworks (light graphic editing)
Biggest Failure: Getting stuck in my brain more than experimenting with productivity/freeing ideas and online business execution. Close Seconds: not starting a mailing list for my business way earlier, and not getting enough sleep each night.
Biggest Success: Launching a product, never giving up.
Biggest Frustration: Taking so long to bring something to the table, then lapsing back into feeling too busy to act, flustered, tired, overworked but having alllllllll the time in the world to read about what everyone else is acting on.
Biggest Expense: Coaching
Most Valuable: The relationships
What are some things that "have worked" for you over the last year+? Share in the comments.