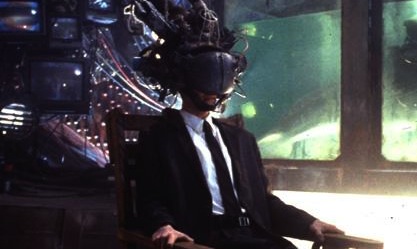 Ever find yourself in a mental haze, staring at projects (with great singular focus mind you) and tasks you know you want to do, yet have no drive to do them? I certainly have. We're on the cusp of major business automation and passive income products, how could this be! Call it ordinary life relapse or lack of motivation, but it's completely wasted time.
You can't be productive ALL the time you say? Well, maybe but I had enough of watching The Office, on repeat…for days that I finally devised a method to clear out my head, regain my drive and reboot my brain into action mode. It worked like a charm. We all lose our way or hit a block when trying to accomplish something big, here's a quick 3 step plan to move past that block, out of your rut, or just actually get something done. It should take about 10 minutes.
This post is a real life experience post and falls in between the lifestyle design stages of automating life's processes and developing easily managed online income sources.
Recalibration of our goals should be a regularly scheduled event. Here's a system for getting you fired up and action oriented on life again. The steps start broad, get specific and give you a new lease on the things you already know you should be doing.
Hint: You actually have to do this to get back on track.
Step 1 Priorities
List out your priorities in life, they should come naturally without having to do much thinking and be fairly broad. I imagine we all share several priorities in life.
Examples: Fitness, Passive Income, Girlfriend, Work, God, Giving back, Reading, Fun
Step 2 Goals (6 months)
Ponder on your priorities for 2 minutes. Create goals for some or all of them that are tangible real things with a deadline. (#parkinson's law)
Examples: Find your 6 pack, $100 in passive income per month, read a book every 3 weeks, volunteer somewhere twice a month, complete 5 client websites, buy new car, fly to california with passive income money, etc.
Step 3 Actions
If any of the goals in step 2 can be accomplished immediatly, schedule to do them ASAP, otherwise use action systems (see below) to put steps in place to accomplish these goals. Actually accomplishing these goals right now isn't the aim, and it's not feasible, but taking the first step is.
Examples:
healthy eating, 6 meals a day high in protein, (input

phone reminders at lunch tomorrow)

read one men's health article a day

workout consistently

scheduled races and workouts (

ical

)

dailymile

challenge people
$100 passive income (1 muse, 1 affiliate campaign)
launch backup informer from itarsenal (

ical

)

launch affiliate campaign (

automate with twitter/outsource with VA

)

try lifedesign affiliates

try tech related affiliates (through adwords, forums, twitter, ect.)

use VA's with itarsenal for %50 autopilot
read 1 book every 3 weeks (average book is 280pg, 10 pages a day)
schedule reading time (

ical

)

book list (9 books)

schedule purchase all books with free shipping
Step 3.1 Action Systems
Use systems for scheduling, minimizing, efficiency, productivity, automation and outsourcing to enhance the rate at which you accomplish tasks in step 3. These systems are often customized to your life but require putting the first step (or more) towards a goal into a place and time. Without action systems, we just have a list of nice things we want to do "someday".
Examples: calendar, txt reminders, "finding your zone", listening to audiobooks in the car, limiting information, blocking time, organized google documents with text highlighted for what I need to do next to finish this website, or promote my friends brand, or launch this product, etc.
Your life is a semblance of systems whether you realize it or not, take an elevated view and do some maintenance on the ones that actually drive you to get things done.
Step 3.2 Information Sources
A general list of where you'll gather information for completing goals, compiled using your favorite methods.
Examples:
The biggest take away to this process is the motivation that is generated from seeing the big picture and the tangible steps to accomplishing something you really want to accomplish. That is a brain reboot. These steps are more therapeutic than mind blowing and should be repeated every 3 to 6 months to regain focus. They are perfect as a follow up to the original dream-lining process but are substantial enough to stand on their own.
---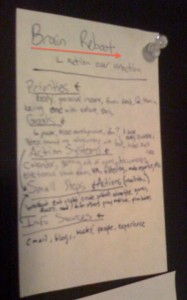 thelifedesignproject Update
In a recent post I mentioned that I would be reviewing a few resources I've started using for automation and the beginnings of easily managed online income. I apologize but those will have to wait a few days longer because I didn't write the reviews just yet. I'm back on track though and still fighting the fight. I'm utilizing my new VA (he sent out 52 e-mails today for prospective gigs), automating large tasks in my IT services business, and creating an online product for passive income. The vision is still clear, the goals have been named. Results, lessons learned, and resources used coming soon. I'm excited to dive into a more business oriented stage.
Does your brain need a reboot? What are you working on?