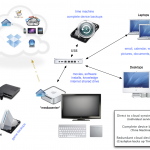 I've been off cable for television purposes for over 3 years.
I've started to perfect the modern "media center" home network, centered around a computer that runs entertainment content. The advantages of making this device a computer are numerous, and I wanted to share how it makes the ideal home network for backup, automation, and saving money. (I won't go into media center software, or streaming experiences here)
This network layout (pictured above) is modeled after my own, where all devices backup to a network attached drive, (Apple Time Capsule or USB attached drive) and all the data on that drive is then backed up redundantly to the cloud (the internet), via the "media center" computer attached to a television. The computer is necessary to "mount" the backup drive, and tell it to backup to the cloud using a backup service (Crashplan) and also serves up media to the television and various other devices in the home.
In this setup, there's immediate constant "local" backup, and redundancy via "cloud" backup, with minimal interruption as the process happens on the user machines (laptops, desktops) wirelessly, and then pushed up to the cloud quickly over network cable from the media center computer. The fact that the backup devices are run through a computer attached to a TV also means it's easy to check up on backup status in daily use.
Devices, Software & Saving $2340
The devices of choice here are Apple's Time Capsule, an attached generic 2TB USB external drive, a Mac Mini (these have an HDMI port) coupled with the online backup service Crashplan for cloud backup and using Apple's built in Time Machine for local backup. It's standard, heavily supported stuff, most computer users can figure out. Yes it takes setup, what doesn't though? Crashplan provides weekly e-mails with back up for one computer, (all you need in this layout) and unlimited data for about $5 a month.
The initial cost was high, (about $950 for the computer, Time Capsule, and USB drive) but considering the time I've saved, plus a $35/m bill for internet vs. $100 (estimates) means for the 3 year count, I've saved roughly $2340 ($3600 – $1260) and gained a computer and some other neat devices.
$3600 = $100/m for 3 years
$1260 = $35/m for 3 years
$950 = media center gear
Overall savings, with the cost of gear included = $1400
Not bad and I have a whole lot more than a DVR hooked up to my TV.
Automation
A computer hooked up to a big screen and speakers in your house is also ideal for saving you time in ways you wouldn't readily imagine. Cut out life "management" wherever possible so you have to "deal" with life less, and can enjoy it more, that's the point of automation right? These are minor, but flow perfectly in this setup.
Fitness – Work out music, and routines (youtube, streaming fitness)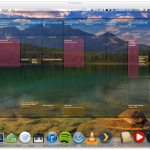 Instant entertainment – Channel surfing and commercial skipping are no longer necessary, you get into the streaming and download scene and watch what you want, exactly when you want, most of the time without commercials.
HUD – Heads up display for weather, calendar, reminders and the like. I like having town events right on the desktop. (see picture on right)
Shared printer – No more plugging into a printer since you can share it from the media center computer.
*Another perk, that's purely visual: Screensavers of your latest adventures look awesome on the big screen and are fun to see regularly.
IMPORTANT: Don't skip the cloud backup, which I've done in years past, backup drives do fail, and you do stupidly put data on them and remove it from your computer, which means it's the only copy, and liable to be LOST.
NOTE: There are few more devices in my home network, but they are used for streaming only, and have no impact on backup. [AppleTv, Roku, Airport Express]
DO THIS: You can get this accomplished with various devices, software, and services, you don't have to use Apple stuff. I like backup, and technical setup, but if you don't and you're interested in setting up your own home network for backup, see IT Arsenal's contact page to get in touch. IT Arsenal is where I provide technical support, advice, and service.
CLICK TO ENLARGE
Crashplan – http://www.crashplan.com/
Apple Store – http://store.apple.com/