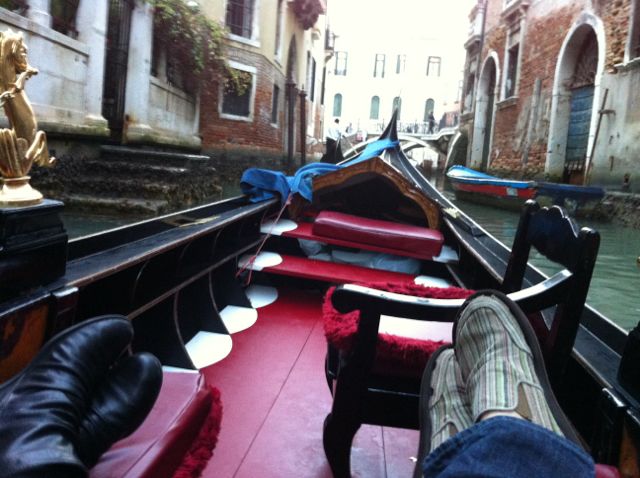 I recently took a trip to Italy and discovered some useful knowledge to share. I don't get to post often about "Liberation" from the normal grind just yet, I always look forward to what I'll learn when I take some purposeful time away.
This year, I found a stark contrast between how my wife prepared and I prepared for our trip, but what I got out of the preparation experience that might be useful to others wasn't that I didn't accessorize enough with the 4 black t-shirts I brought, it was some the best technology decisions to make and tools to bring with you to make the trip easy, cheaper, and more enjoyable. It's last quarter 2012 and this stuff is getting really fun and easy to use!
All credit to my wife for actually planning accommodations and travel, I probably wouldn't have made it very far without her train scheduling skills.
If you're a digital nomad, travel for work, or simply taking vacation, you'll find these useful. Most require a smart phone or iPod touch and assume your traveling from the US.
"How a tech guy prepares for a trip to Italy."
Download OffMaps2, which are offline maps that work like Google Maps, with the GPS sensor in your phone, but use ZERO data and don't need a cell connection or wifi to work. This was probably the number 1 most useful thing while wandering Italy or double checking some public transportation we were on was actually going the direction we wanted.
Buy $30 for a 120MB international roaming data package for phone, avoid fees.
Add $10 to Skype for calls and txts, super useful when you can use your phone for this.
Add $10 to Google Voice for calls from your computer, no international txts, but you want to use this for txts within the US, again, super useful when you can use your phone for this.
Download FlightTrack Pro, this provided me updates to flights, before the flight staff did, no joke.
Get 1 month of Evernotepremium for offline access.

Clip itinerary and scans of all important documents into Evernote.

Call your cell phone provider, stop your txt messages while you're gone, tell people to txt you on your Google Voice number, because that uses data, which you can plan and prepay for.
Download Wifi Finder app and download the offline map data.
Buy a battery extender pack that fits various mobile and Apple devices, the one linked was awesome.
Sync devices to computer remove junk apps/data and replace with new ones, Kindle books, a season of a tv show.
Download a currency converter app, (ensure it works offline) I liked eCurrency for it's ease of use.
Download a phrasebook app, find a cheap free one unless you're actually interested in learning the language.
Verify flights booked with airline mileage points via travel hacking techniques. Our flights to and from Europe, including a business class ticket back, cost us $300 total, see extrapackofpeanuts.com.
The time saved navigating, fee's avoided, entertainment, and security knowing we could handle every situation made a big difference.
Sure you need to spend some time learning what Evernote is, how to use Skype or Google Voice if you don't already but, you probably already know how to use a smart phone app, and the other tools are useful for much more than just travel.
Want to know more about something specific, have something to add? Comment below!
Want to see tons of pictures and know how the trip went? See my wife's blog at http://mgranholm.com
Business Update
I can't help but to mention that IT Arsenal thrived while traveling: responses, development work, incoming sales all hummed along.
The time away from the desk provided some much needed clarity and focus for coming back and increasing what can scale, what's really important for growth, and where I need to put discipline to "level up".
Reading material included Knockout Strategies for Health, Wealth and Success, The Personal MBA, and Impact Equation.