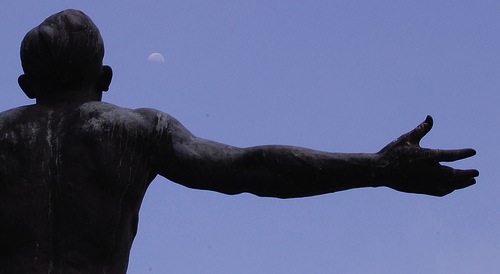 It's been a while since I've taken a snapshot of how things are going at The LDP project. There are some solid resources The LDP has been featured on lately and a few behind the scenes workings that I'd like to share about. In fact, as what usually happens, there's more than a few things going on behind the scenes and a few directions we can focus on going into the future. I need your help with that. Check out what's going on around the project and influence where we go from here in today's post PLUS a time saving breakfast batch secret I just discovered AND a video in which I chug a 2 liter bottle of Pepsi Max. It's like 3 posts in one! You've been warned.
Influence Me and Get What You Want
Obviously we're moving ahead with creating income online, we've covered feasibility testing of an idea with a thorough stroke, next we'll dig into how we actually bring about this idea to a reality. Along that path, I'm cooking up some content I think those interested in intelligent free living will want to know about. It would be a sincere help if you took a minute to pick what you'd like to see in the poll below. Extra detail on each topic is further down the page.
[polldaddy poll="2777927″]
Previews and Details
The Life Design Timeline in collaboration with Alan Perlman, (9-5 Alternative)
A timeline that's flooded with nothing but vital resources for the phases of lifestyle design. It's a tool designed for those who need to gain footing when they're lost, or gain a visual grasp of the core elements of breaking free from a molded lifestyle. Check out this picture for an example, it's a timeline of the this blog.
Lifestyle Design Infographics
A series of info graphics like the one below aimed at instant "aha" moments for creating breakthroughs in time management, productivity, and other core elements of living well, "allah" lifestyle design.
Outsourcing Workflow Database
In collaboration with reader Jason Stephens (who I've been working with on outsourcing his business) I'd like to gauge interest for putting together a resource site dedicated to pre-made workflows for virtual assistants and common tasks both business and personal use. The materials would help bridge the gap in how to work with a virtual assistant and automate several common minutia type tasks of marketing, information research, maintenance and such.
Time Batching Omelets!
I've found one of the most interesting effects of reading the 4 Hour Work Week on my time has been batch cooking. Here's a gem if you like protein healthy eggs in the morning.
Omelets in a Boiling Bag
You can set up a whole weeks worth of omelets, including the fixings in one fell swoop and cook them without using any messy dishes during the week. Try this out.
1. Crack a couple eggs, add cheese, pepper and your favorite additions to a zip-lock bag. Use the Ziplock brand name, as they're sturdier.
2. Boil the ziplock bag in a large stovetop pot. (takes about 12 minutes)
3. Enjoy. The omelet slips out of the zip lock without a mess. Add to fajita wrap for breakfast burrito action.
I'll probably pull a Tim Ferriss on this later and do a YouTube that will subsequently get 50 billion views….you never know. The cool thing about this breakfast hack is that you can make a weeks worth of omelets at a time and have minimal dishes to clean throughout the week, big time saver. If you're particularly green, don't complain, I'm assuming that I'm somehow absorbing like .01234 percent plastic into my diet. Let me know if there some awesome "green" alternative to zip-lock bags that might work.
The LDP around the Web
I've been chatting it up with some awesome people as I continue to empirically test out designing life on purpose. As you can surmise, I love talking actionable changes which almost always leads me to process design and automation conversations. Check out where this project has recently been featured below, some upcoming content, and thank you for being a part of it!
Gen-Y Rock Stars – Outsourcing for musicians guest post and audio conference (strategies, tools, and experiences)
BlogcastFM, process design and productivity chat. This site is a big up-and-coming interview style audio resource, includes some premium lifestyle designer names. Worth a look.
Chris Ducker of Virtual Business Lifestyle will be guest posting here soon!
Look for me possibly showing up at Free Pursuits in the near future!
The World Occurring Right Now
What's life look like right now, after 8 months of lifestyle design testing? Here's a very candid run on sentence kind of glimpse.
I still maintain a 9-5, although I'm ruthless about my attention both at work and out of work. Fridays are optional. Singular focus has become a vital practice in block working. I've gotten the hang of checking e-mail only a few times a day, I'm a heavy Gmail filter user now, gathering IT Arsenal e-mail, personal, and LDP e-mail all in one spot while parsing off automated bill pays and all account type e-mails. I'm fairly busy but not stressed. I maintain a pretty tight reign on my time through scheduling and calendaring. I use Evernote as a gathering pool of things that need to be scheduled or looked at, this list rarely goes above 10 items. I "hold" actual tasks to tackle either in a calendar or linked Google document in a calendar event. I spend about 2 hours a day after work alternating days between this blog and it's projects (some mentioned above) and IT Arsenal, the freedom business born from this whole lifestyle design idea. I spend about an hour day while taking in some sort of entertainment responding to e-mails of readers or potentials clients, and I've loved these conversations. At times I put this off for current or new client hourly pay type interactions. I've been shifting focus to IT Arsenal recently, but doing a lot of similar work on both fronts, which has been networking. I now have a fairly solid "pitch" at IT Arsenal and plenty to talk about with the fun people and stuff I'm working on here to chat it up on social networks and others with similar projects…I can now offer something of value in the conversation. These conversations usually lead to some sort of "we should do something together" vibe that is free to act on, and furthers promotion and continued work on products or my mission on helping out entrepreneurs, small business owners et cetera. I constantly am looking for mentor support on the business front (how to appeal to users, how to launch products and service ideas, ect.), and feel I'm moving slowly in terms of any growth or actual income. I remind myself that consistent smaller amounts of effective work are much more valuable than burning myself out trying to work till 11pm every night. The gradual build of followers, mission, and value will be profitable when I have sellable propositions. I also get to continue do things I love with the pace I'm at, weekends, long hours, trips and steps toward dreams like learning JKD or running triathlons aren't being sacrificed. I spend about 5 hours a week working on value driven posts and digital product creation. I'm constantly on the lookout for entrepreneur collaboration and lately spend my time in WordPress, Tweetdeck, Google Analytics, on the phone, and Evernote drumming up content.
It's frustrating I don't just have something I can sell except myself (in an hourly way) yet, and I think I would have put more hours in the beginning into something I could, or into learning affiliate selling of products I've used and can honestly promote if I could do it all over again. I'm sure I would have earned passive income by now. I blame it on coming from a freelancer's perspective. On the flip side, I've gained some valuable new hourly/project gigs along the way.
I've tried to cut back on the scheduling as I find myself in my calendar too often (I'm too analytical and need to prompt action from myself more often), but I have a few big goals I'm digging for in terms of "business goals" this year. I'd like to speak at 4 engagements on how I think I can help entrepreneurs (which will build credibility to cite elsewhere), I'd like to launch 2 products, go to one big entrepreneur conference, get published in a physical publication, and work with one semi big name. On a personal note, I'm done with the snow here in Philly and looking forward to getting outside. I'm a runner and a triathlete and I'm getting sick of working out indoors, it doesn't help weekend plans with my girlfriend either.
Finally a Request
I've entered a contest for my freedom business connected with this project, IT Arsenal. It's a two minute video in which I describe IT Arsenal and chug a 2 liter bottle of Pepsi Max! Your view counts as a vote so you would be doing me a huge favor if you watched! Thanks!
httpvh://www.youtube.com/watch?v=GcY7yxcg1X8
Tweet this and help a brother out! Check out the contest here.
Well, that was probably the post random post yet, hopefully beneficial/entertaining, what do you think? Leave a comment