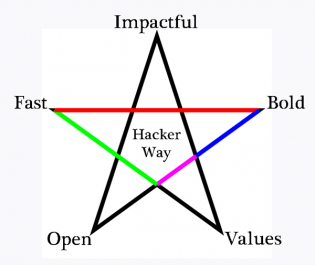 I grabbed the excerpt as I found it applicable and similar to Chris Brogans "gate jumping" thoughts. Use this as fuel to forge ahead if you're stuck.
Find what works, iterate, make it better if the idea proves itself worthy.
Pulled originally from Facebook's IPO filing, then from my reading of Eric Ries "Startup Lessons Learned" post on it.
http://www.startuplessonslearned.com/2012/02/hacker-way.html
Build your online business like this, there's too much distraction, too much to get caught up in that without this mindset you just won't get a chance to make your ideas fly, create income, and see if your business can be a freedom giving enjoyable endeavor. It's something you can hear over and over as you develop. It's awesome to see this methodology can be used no matter how small or big you are.
The Hacker Way (letter from Zuckerberg)

As part of building a strong company, we work hard at making Facebook the best place for great people to have a big impact on the world and learn from other great people. We have cultivated a unique culture and management approach that we call the Hacker Way.

The word "hacker" has an unfairly negative connotation from being portrayed in the media as people who break into computers. In reality, hacking just means building something quickly or testing the boundaries of what can be done. Like most things, it can be used for good or bad, but the vast majority of hackers I've met tend to be idealistic people who want to have a positive impact on the world.

The Hacker Way is an approach to building that involves continuous improvement and iteration. Hackers believe that something can always be better, and that nothing is ever complete. They just have to go fix it — often in the face of people who say it's impossible or are content with the status quo.

Hackers try to build the best services over the long term by quickly releasing and learning from smaller iterations rather than trying to get everything right all at once. To support this, we have built a testing framework that at any given time can try out thousands of versions of Facebook. We have the words "Done is better than perfect" painted on our walls to remind ourselves to always keep shipping.

Hacking is also an inherently hands-on and active discipline. Instead of debating for days whether a new idea is possible or what the best way to build something is, hackers would rather just prototype something and see what works. There's a hacker mantra that you'll hear a lot around Facebook offices: "Code wins arguments."
PS. IT Arsenal's progress has been slow and steady. I'm the bottleneck, not packaging things up as deliverable digital products, and streamlining work delivery often or well enough. Still, revenue is climbing, hourly investment only slightly higher or fluxuating. A real progress report is due next on what's working, what's not working, and some reading inspiration. I really love the projects I'm working on it.